Generally speaking, the graphics card, CPU processor, and memory requirements of the computer are the highest when playing games. For these, I rank it as the most important, software and other computer hardware I rank it as the second most important. Hystou gaming computer is equipped with Intel core processor and DDR4 running memory, which is the best choice for your gaming computer.
Product Highlight:
[Great Game PC] The graphic of this Mini PC is professional integrated graphics card Intel UHD Graphics, Core i5 i7 and i9 adopt Intel UHD Graphics 630 while Xeon E-2176M adopt Intel UHD Graphics P630, both perfect for regular gaming and video playing, resolution up to 4096x2304@60Hz. Intel UHD Graphics 630 were tested fine for playing games like Counter-Strike, Grand Theft Auto V, The Elder Scrolls V, FIFA, and you'll also not face any problem in other popular games like Tomb Raider (2013), Overwatch, Battlefield. Batman: Arkham Origins, and Arkham City, Max Payne 3, Sniper Elite 2, Far Cry 3.
[Memory & Storage] Memory types: 260 pin DDR4 SO-DIMMs. Dual DDR4 260 pin SO-Dimm laptop memory make the mini pc much faster than others with Dual DDR3 memory. Storage: 2 x M.2 KEY M for SATA&PCIE4X bus SSDs (M.2 2280, NVME),1 x SATA3.0 for 2.5 inch HDD/SSD.
[Small and Portable] The volume of a mini pc is generally 1/30 of the volume of a traditional desktop host, which is approximately equivalent to the thickness of a 130-page book and smaller than a piece of A4 paper. Since the mini host looks like a book standing quietly on the table, the mini host is also called "book computer".
[Dual Screen Display]
Built with 1 x HDMI and 1 x DP port,
seamlessly connecting two monitors.
Processor Graphics:
Intel UHD Graphics 630 for Core serials, Intel UHD Graphics P630 for Xeon E-2176M/2186M.
With integrated Intel HD graphic to enjoy 4K Web surfing, video playback, watching TV, home theater, enjoy the entertainment with your family. Support 2.4G/5.0G Band WiFi.
[Rich and Diverse Ports] 4 x USB 3.0 port, 2 x USB 2.0 port, 1 x Type C USB 3.1 port,2 x RJ45 Giga Intel Lan,Inside 433 Mbps & Bluetooth 4.2.

Available Processors:
1. Intel® Xeon E-2176M Processor (12M Cache, up to 4.4 GHz);
2. Intel® Xeon E-2186M Processor (12M Cache, up to 4.8 GHz);
3. Intel® Core™ i9-8950HK Processor (12M Cache, up to 4.8 GHz);
4. Intel® Core™ i9-9880H Processor (16M Cache, up to 4.8GHz);
5. Intel® Core™ i7-9850H Processor (12M Cache, up to 4.6 GHz);
6. Intel® Core™ i7-10750H Processor (12M Cache, up to 5.0 GHz);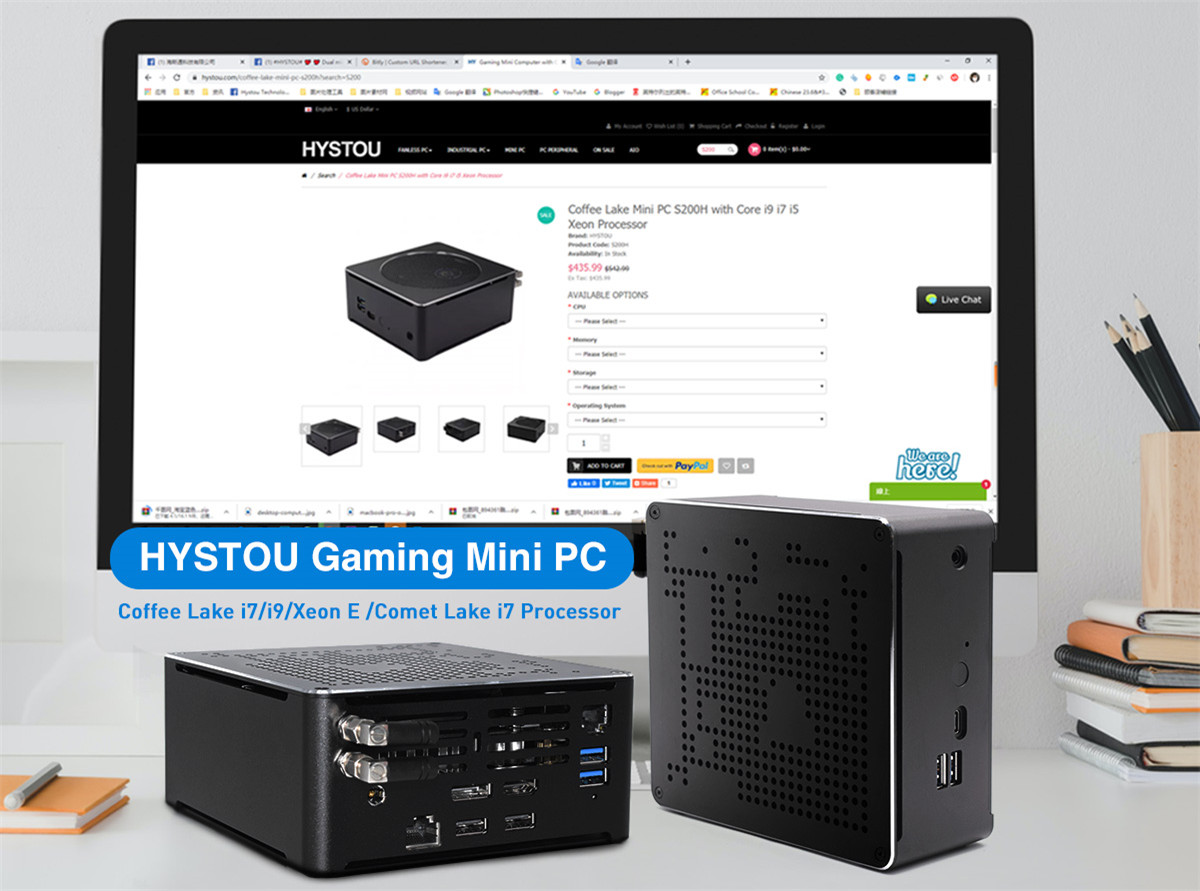 Processor

CPU

Intel Xeon E-2176M (12M Cache, 6 Cores 12 Threads, Base Frequency 2.70 GHz Turbo Frequency 4.40 GHz)

Intel Xeon E-2186M (12M Cache, 6 Cores 12 Threads, Base Frequency 2.90 GHz Turbo Frequency 4.80 GHz)


Intel Core i9-8950HK (12M Cache, 6 Cores 12 Threads, Base Frequency 2.90 GHz Turbo Frequency 4.80 GHz)

Intel Core i9-9880H (16M Cache, 8 Cores 16 Threads, Base Frequency 2.30 GHz Turbo Frequency 4.80 GHz)


Intel Core i7-9850H (12M Cache, 6 Cores 12 Threads, Base Frequency 2.60 GHz Turbo Frequency 4.60 GHz)

Intel Core i7-10750H (12M Cache, 6 Cores 12 Threads, Base Frequency 2.60 GHz Turbo Frequency 5.0 GHz)

TDP

45W

CPU Lithography

14 nm

Memory Specifications

Max Memory Size

64GB

Memory Types

260 pin DDR4 SO-DIMMs

Memory Channels

Dual Channels

ECC Memory

Yes support

Storage Specification

m.2 SSD

2 x M.2 KEY M for SATA&PCIE3.0 (M.2 2280, NVME)

SATA

1 x SATA3.0 for 2.5 inch HDD/SSD

mSATA

NO mSATA slot

Graphics

Processor Graphics

Intel UHD Graphics 630 for Core serials, Intel UHD Graphics P630 for Xeon E-2176M/2186M

HDMI

1 x HDMI 2.0 (4K)

DP Port

1 x DP Port (4K)

Power Specification

Power Adapter

19V Power Input, supply 19V 7A power adapter within the package

Auto Power On

Support Auto Power On Function

In & Out interfaces

USB Port

4 x USB 3.0 port, 2 x USB 2.0 port, 1 x Type C USB 3.1 port

Audio

1 x Audio (MIC&SPK)

Video

HDMI + DP Dual 4K output

Power Input

19V In

Lan Port

2 x RJ45 Giga Intel Lan

Wi-Fi

Inside 433 Mbps & Bluetooth 4.2

Others

System

Support Windows 7/10, Linux

Case Material

Alloy + Plastic

Dimension

Mini PC size 144 x 134 x 64mm

Package size 257 x 219 x 100mm

Weight

Gross weight 2.5 kg